UK Directions
Our Location
St. Leonards on Sea is in East Sussex along the southern coast of England. The centre is about 60 miles from London. The town is renowned for its historical sites (being near to the site of the famous Battle of Hastings), and has a strong tourism and private sector education economy - accommodating tens of thousands of foreign students each year. The town is easily reached by railway from central London, and both Gatwick and Heathrow Airports. Alternatively, transport by private cab to and from these airports can also be arranged for students on request.

The close proximity to the neighbouring historic towns of Hastings, Battle, Winchelsea and Rye in the "1066 Country" makes this a tremendous place to visit during your stay with Hastings Business Training.
Our Training Facilities
To ensure that our courses are delivered in a professional training environment, with the latest facilities available, we are pleased to present our training locally at the University Centre Hastings.

This centre is a modern developed educational establishment which is administered by Brighton University.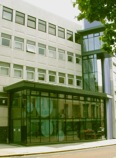 Information about University Centre Hastings is available from the centre's own web site at www.uch.ac.uk
How to get to us
If you are arriving from overseas, you may travel either by train from London Heathrow or London Gatwick, via central London to Hastings railway station; or you may prefer to ask us to arrange for a car to take you direct from the airport to Hastings.

The address of University Centre Hastings is: Havelock Road, Hastings, East Sussex TN34 1DQ.

We have arrangements with local hotels for your accommodation.

Should you wish us to assist you in booking a hotel, please indicate on your booking application form. Please note that hotel accommodation and other travel costs are your responsibility, and are not part of the course fee.

Should you prefer to travel from the airport to Hastings by train, we will be pleased to provide you with details of train times and routes once we have a confirmed date for travel.
ASTC :: Advanced Studies and Training Centre
ASTC offers a variety of courses in different categories that fit the need of the client. These are professionally organized and uniquely created to provide a customized learning experience for organizations in the Middle East. Listed below are some of the various fields in which we can offer our trainings. These trainings are usually held as 2-5 day workshops but some of these, on request, can even be compressed into express trainings.
Top of Page