Welcome To Hastings Business Training
Our training business was originally founded in 1987, and since 2005 has been established as Hastings Business Training. We are a provider of Corporate Strategy training solutions, including courses in Management, Financial/Auditing, Information Technology and Public Sector administration.
Read More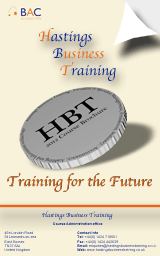 Why not take a copy of our course brochure.


Click on the download button below to get a PDF copy of our brochure.

Inside this brochure you will find infromation about hastings business training, where you can find us, all course information (including dates and fees), details on us visiting your business to discuss bespoke courses, a booking form (if you wish to book a manual form), Our terms and conditions, and some testimonials.